My Friday's Fancies: "Outfit Crush"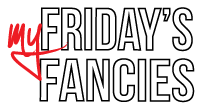 This week's theme came with the following description, "Whether it's a celeb spotting or a Pinterest find, I'm sure there's an outfit you'd love to re-create in your own way"
One of my favorite summer looks on Pinterest was pinned from a set on Polyvore. There is nothing I would change about the outfit and Polyvore already shows you exactly where you can purchase each piece in this outfit. Click here for outfit on Polyvore.
This means, I needed to pick another outfit to re-create. I love the Pinterest pin of this skirt with a button down.
I created my version and made it something I would wear. Here is my outfit crush!!
J. CREW button down denim shirt with rolled sleeves, cream tribal embellished mini skirt, Jessica Simpson Camille Sandal, braided hip belt from MetroParkUSA.com, BIG BUDDA cross body purse (maybe I should have gone with a more simple purse but I fell in love with this one), Stella & Dot gold bangles, and Stella & Dot royal blue and gold drop earrings.
What I am most excited about today is my new purse!! I ordered it on Saturday and it was waiting for me at my front door when I got home from work yesterday.